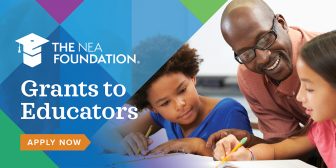 Stephanie Bennington of Massillon, Ohio and Casey Clark of North Canton, Ohio are each recent recipients of a $2,000 Learning and Leadership grant from the NEA Foundation.
Bennington and Clark are among the 72 prestigious grant awards amounting to $261,000 across 31 states.
The NEA Foundation is a public charity founded by educators for educators to improve public education for all students. A team of 15 educators, many of which are former grantees, carefully reviewed hundreds of applications and evaluated each one against a set of criteria, which include alignment of student achievement, academic rigor, critical thinking, leadership, collaboration and project sustainability.
Bennington, a science teacher at Perry High School (and member of the Perry Classroom Teachers' Association/OEA), will use the funds to further study the biodiversity, degradation as well as conservation of oceanic habitats. She will travel to Prachuap Khiri Khan, Thailand to participate in the Seaside Marine Environmental Conservation Project with other marine scientists. Upon her return, she will share her findings with her students and implement a mock version of the coral reef project in her classroom.
Clark, an English teacher at North Canton High School (and member of the North Canton Education Association/OEA), will use the funds to further study the integration modern technology in the classroom by attending the International Society for Technology in Education Conference, June 24-27, 2018, in Chicago. Clark will use newly learned teaching techniques to lead professional development sessions at the district, county, and state levels.
Since 2012, the NEA Foundation has awarded greater than $2.4 million in grants reaching more than 35,000 educators and 512,000 students in 49 states. Annually, the Foundation awards approximately 120 Student Achievement and Learning and Leadership Grants.
"We understand the importance of educator-designed lessons and are eager to support teachers and support professionals who are driving new teaching and learning endeavors," said Harriet Sanford, president and CEO of the NEA Foundation. "By directly funding educator-conceived and led projects, the Foundation enables educators to chart their own course to solve teaching and learning challenges."
The NEA Foundation awards grants to educators three times a year: June 1, October 15, and February 1. Application forms and step-by-step instructions on how to apply can be found in the Grants to Educators section of the NEA Foundation website: neafoundation.org.
The Ohio Education Association represents 125,000 teachers, faculty members and support professionals in Ohio's public schools, colleges, and universities.