Celebrate National Teacher Appreciation Week, May 2-6, 2022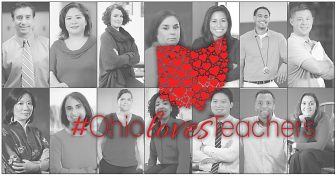 Join us as we celebrate the hard work and important contributions of teachers during National Teacher Appreciation Week, and on National Teacher Day, May 3rd. The week provides us with a timely opportunity to illustrate the power and value of teachers and parents collaborating creatively for student success. The overall goal for the week is to bring to life the powerful voices of educators sharing their stories of what they really need to feel appreciated and respected.
Sign NEA's Teacher Appreciation Week pledge to give educators the support and respect they deserve.
---
---
To help members of your community share their appreciation for the educators in their lives, we encourage members to visit and share the following link to record a Soapboxx video story.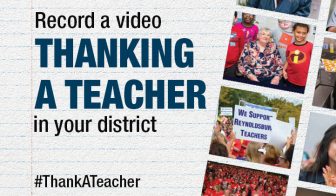 Everyone can show their appreciation by sharing one of the following on social media:
Say 'thank you' to educators on social media by sharing a message. Be sure to use the #thankateacher hashtag.
A picture of yourself with your favorite teacher, past or present;
A picture of your child with his or her teacher;
A picture of yourself holding a piece of paper with a simple message saying Thank You to a teacher and why you're thanking him or her.
Be sure to use the hashtag #ThankATeacher and #OhioLovesTeachers when sharing.
Or check out our Teacher Appreciation Week board on Pinterest for other ideas on how to personally thank teachers for making a positive impact on your life and the lives of children across the country.
Things you can do to join our 2022 Teacher Appreciation Week celebration:
Visit NEA's Teacher Appreciation Week webpage for the latest updates, details about how others are celebrating across the nation, and more!
Ask educators to leave NEA a message at (202) 455-4371 to say what would make them feel appreciated this year.
Read a roundup of stories showcasing just a few of our exceptional educators who have gone beyond the call of duty to help students succeed during a challenging and unconventional school year—and share your favorites on social media using our #ThankATeacher hashtag.
Encourage partners and key audiences to text CELEBRATE to 48744.
As a token of OEA's appreciation for all Ohio's educators do, we're inviting all OEA members to enter drawings to win 4 free tickets for Major and Minor League baseball games around the state. Only OEA members are eligible to win.
The entry form has closed, and winners will be notified by email or phone. Thanks to all who participated!
Our winners are:
Andrew Smith – SHEFFIELD-SHEFF LAKE TA
Nicole Thompson – WOODRIDGE EA
Kristy Mount – BELLEFONTAINE EA
Jennifer O'Dell – MAPLE HEIGHTS TA
Kevin Long – LONDON EA