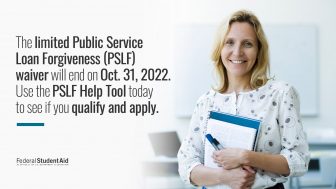 October is a BIG month for student debt cancellation, and we are pulling out all the stops to make sure educators are ready to make the most of it!
NEA will be hosting two webinars with student debt experts, one exploring the newly announced White House Student Debt Cancelation Plan and the other reviewing the PSLF program before the Limited Waiver expires.
October 11: Biden's Student Debt Relief – What Educators Need to Know
October 18: Last Chance, The PSLF Waiver Is Ending!
You can learn more about these webinars and register to attend here.
Other resources: