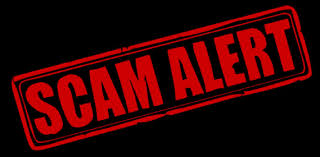 Right now, billions are being spent in attempt to scam and mislead us into leaving our union. But here's the truth: we only have power in numbers.
The more people who stick with OEA, the more power we have to negotiate for better schools and good pay, benefits and working conditions. If people quit, that power goes away.
Don't be fooled – OEA is here to protect schools and give us the voice we deserve. Take the #RedForEd pledge and stand with OEA as we continue to build a strong union that advocates for the opportunity students need to succeed!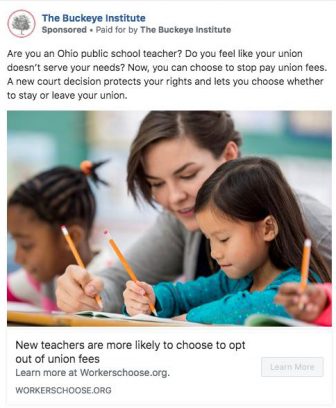 Buckeye Institute — WorkersChoose
WorkersChoose.org is run by the right-wing Buckeye Institute, which is also part of the State Policy Network.
MyPay/MySay
MyPay/MySay is a project of the Michigan-based Mackinac Center, which is also part of the State Policy Network. The Dick and Betsy DeVos Family Foundation is a significant donor to the Center.
[Related: OEA President Becky Higgins: Betsy DeVos Just Asked You to Drop Membership]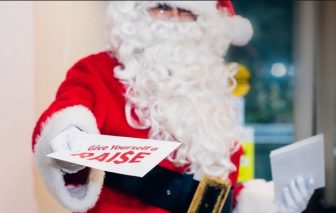 Americans for Fair Treatment
Americans for Fair Treatment is run by the Pennsylvania-based Commonwealth Foundation, which is yet another member of the State Policy Network.
Freedom Foundation's Santa — Give Yourself a Raise
Last year, the Freedom Foundation's Santa and his sister Sandi Claus visited different Washington and Oregon state office buildings to tell state employees they have the right to stop paying a portion of their union dues.
LeaveMyUnion
LeaveMyUnion.org is run by the Illinois Policy Institute, which is the conservative "think tank" that helped to pay for the Janus case and is also a member of the State Policy Network.
MyJanusRights
MyJanusRights.org is run by the fiercely anti-union National Right to Work Legal Defense Foundation, which argued the Janus Vs. AFSCME case as well as its predecessor, Friedrichs v. California Teachers Association, before the Supreme Court.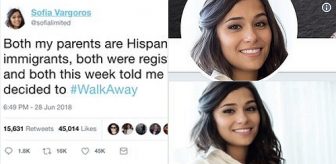 #WalkAway
#WalkAway # is a deceptive social media propaganda campaign linked to Russian Twitter accounts..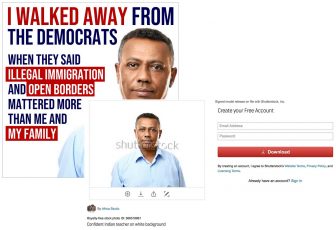 Using the hash tag #WalkAway, followers claim to have left the Democratic party after being turned off by unsubstantiated claims of "hate" and "division" of "the left."
One of its Twitter top accounts, @sophialimited (pictured), claimed to be a Hispanic woman with immigrant parents who decided to leave the party. The account was a bot. Twitter suspended the account, but not before it racked up tens of thousands of retweets.
Of the many bots and trolls tracked by Bot Sentinel, #WalkAway remains in the top five. Also noteworthy, the account had been linked to RT (formerly Russia Today), an international multimedia organization funded by the Russian government.


Additional Resources & Related Stories