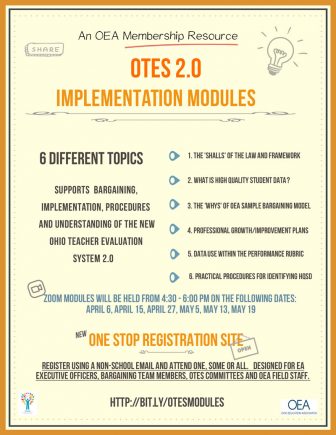 6 Different Topics
Supports Bargaining, Implementation, Procedures and understanding of the new Ohio Teacher Evaluation System 2.0.
The 'Shalls' of the law and framework
What is high-quality student data
The Whys of OEA Sample bargaining model
Professional growth/improvement plans
Data use within the performance rubric
Practical Procedures for identifying HQSD
Zoom modules will be held from 4:30-6:00 PM n the following dates:
April 6, April 15, April 27, May 5, May 13, May 19
ONE STOP REGISTRATION SITE
Register using a non-school email and attend one, some, or all. Designed for EA Executive officers, bargaining team members, OTES Committees and OEA Field Staff.