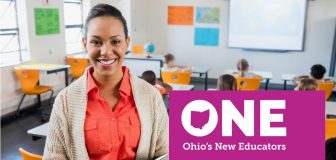 Your students are eager to learn. How you manage your students' learning environment will determine the pace, effectiveness, enjoyment and overall success of their learning and your teaching.
Ohio's New Educators (ONE) is hosting a series of one-day workshops that will help you feel confident and prepared as a new educator. Choose from July 10th, 22nd, 23rd, & Aug. 6th.  All workshops will be held at the Ohio Education Assoc. Headquarters, 225 East Broad St., Columbus. Each session will begin at 9:30 a.m. and end by 3:30 p.m.
Your colleagues will help you to:
Build collaborative classroom communities that are safe and nurturing student learning spaces.
Develop engaging learning activities that are purposeful and connected to student interests.
Create orderly classrooms with predictable routines and rules that promote student autonomy.
Continental breakfast and lunch will be provided. For more information and to register, visit: Tinyurl.com/ONEclsmgmt. These workshops are offered at no cost to Aspiring Educators (college students) and first- and second-year teachers.