2019 Summit Theme: Windshield or Bug? How to Thrive during Change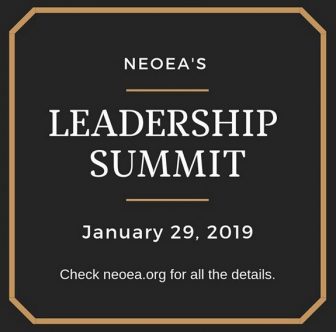 Often, when serving in leadership roles, sometimes you're the windshield, sometimes you're the bug. Join the region's local leaders for the annual NEOEA Leadership Summit at the Mentor Schools' Paradigm Center, 6465 Center Street, Mentor, OH.
Summit participants will discuss practical tactics to successfully navigate this change so you can lead your local in ways that are relevant and meaningful to your members.
A buffet dinner will be made available at 5 p.m. followed by a presentation from 5:30-7:30.
Each local president is encouraged. This is a Presidents+Two event, so each president (or designee) may register an additional two participants.

Admission is free but registration is required as seating is limited. To register, print, complete and then this form to: NEOEA, Leadership Summit, 6001 Landerhaven Drive, Suite D, Mayfield Hts., OH. 44124-4190. For a Word-fillable flier is also available by clicking here: www.neoea.org/Summit.rtf.
You may also email either of the completed forms to: desk@neoea.org. Questions? Please NEOEA at: 216.518.0200 or toll free at: 800.354.6794