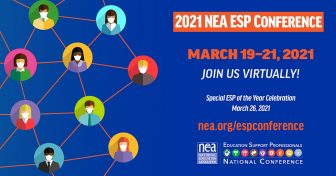 We're excited to announce that registration for the 2021 NEA ESP National Conference is now open!
The NEA ESP National Conference is the premier professional development opportunity for education support professionals across the nation. The 2021 conference will be held virtually March 19-21, with a special ESP of the Year celebration on Friday, March 26. Get ready to connect, collaborate, and engage in some of the most important topics affecting our school communities today, from racial and social justice, to trauma, social and emotional learning, leadership, organizing, and more! Check out the conference schedule, featured speakers, and workshop sessions at nea.org/espconference.
Registration for the 2021 NEA ESP Conference is now open through February 26, or until capacity is eached. Registration is FREE of charge and limited to NEA members. Spaces are being filled on a first-come first-served basis, so reserve your spot today!