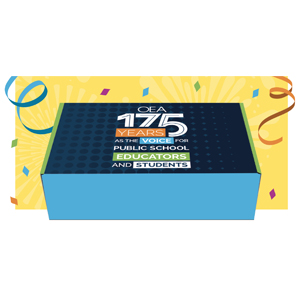 PLEASE JOIN US
SPRING INTO ACTION
CELEBRATE OEA'S 175TH ANNIVERSARY 5 DAYS OF CELEBRATION!!
During the month of April, SPRING INTO ACTION and participate in any (or all) of the events below to celebrate the 175th Anniversary of OEA in your local.
Share pictures of the event on social media using the appropriate #hashtags – Locals with the most likes or most unique celebrations will win a prize!! Winners of each challenge will be announced during Teacher Appreciation Week May 2nd – May 6th!!
OEA Challenge 1 #OEA175CHALLENGE1: Celebrate the History of Your Local
OEA Challenge 2 #OEA175CHALLENGE2: Host a Community Project
OEA Challenge 3 #OEA175CHALLENGE3: Celebrate Local Victories
OEA Challenge 4 #OEA175CHALLENGE4: Host a Member Appreciation Day
OEA Challenge 5 #OEA175CHALLENGE5: Host a Wellness Activity for Members