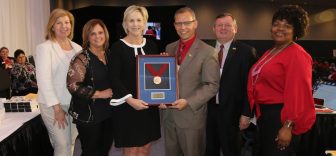 Hungry children have trouble concentrating in school.
That's why the Children's Hunger Alliance works to ensure more kids start their day with a healthy meal. Our School & Summer Nutrition team worked with 13 school districts in Ohio during the 2017-2018 school year as part of a Breakfast in the Classroom initiative in partnership with the Ohio Education Association (OEA), the NEA Foundation, the Walmart Foundation, and the Food Research & Action Center and many other similar agencies.  More than $600,000 in grants went toward bringing breakfast directly into the classroom so every student — regardless of income — could begin the school day with a nutritious meal.
During the OEA Spring 2018 Representative Assembly,  Children's Hunger Alliance was recognized with the OEA Friend of Education Award as a result of these efforts.
The award was accepted by, (pictured l-r):  Heather Loughley, (Children's Hunger Alliance) Director of School and Summer Nutrition; Sonja Hill, Summer Nutrition Manager (Children's Hunger Alliance); and, Children's Hunger Alliance CEO Judy Mobley. And continued, on behalf of the Ohio Education Association: Vice President Scott Dimauro, Secretary-Treasurer Tim Myers, and OEA Organizer Makia Burns.

Related Story

Oh Yes, We're Social — Join the Conversation!

Updated June 4, 2018