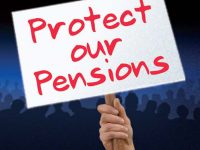 The committee is charged with developing a consensus solution to the multi-employer pension crisis affecting families across America.
Mark Hill was recently elected by OEA's Representative Assembly, the governing body of the organization. Hill will serve a three-year term beginning July 15, 2018.
TIP: In the Resources section you can find applications for scholarships, awards, and grants, along with other information for education professionals and local affiliates. The section is divided into Scholarships and Awards, Professional Resources, and Local Affiliate Resources.

September 14, 2017
-
September 14, 2018
Additional Member Benefits
As the professionals who work with Ohio's students every day, OEA members have chosen to devote their careers to public education. All active or retired OEA members — whether they're teachers, secretaries, bus drivers, nurses, support professionals, or JVS or higher-education faculty — care about students. And OEA membership is there to support you in the important, life-changing work that you're doing.